In 2018 we marked 20 years since our initiation, providing an opportunity for reflection on our roots, recent impact and forward thinking, using past lessons to further infrastructure policy and practice to alleviate poverty. To celebrate these last two decades, we joined together around 100 key influencers from government, industry, civil society and academia at a conference where innovations, inspiring stories and debate on infrastructure needs ensued. In this blog, Communications Manager for EAP, Charlotte Broyd sums up some of the key points and takeaways from the event.
Against all odds: Promoting infrastructure transparency in unlikely environments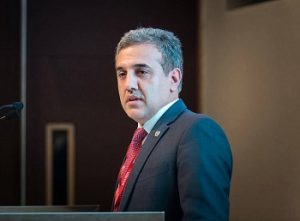 To kick start our 20th Anniversary event, inspiring stories were told by two ministers who have championed transparency and accountability in the infrastructure sector in challenging settings in Afghanistan and Honduras.
In his speech, our keynote H.E. Yama Yari, Minister of Public Works, Afghanistan reflected on his refugee childhood, engineering studies in the UK and his determination to use these experiences on return to his home country. He explained his determination to make a change in a country experiencing division, prone to corruption, with a lack of open and accountable systems and outlined how this began through a public procurement reform initiative.
His efforts led to the creation of the National Procurement Authority and National Procurement Commission which transformed Afghanistan's business as usual approach to public procurement to one which put accountability mechanisms at its core. Some of the accountability measures adopted during this time included the development of a procurement disclosure platform and facilitation of regular dialogue between procuring entities and policy makers. The initiative brought significant financial benefits and enabled a culture of transparency. Over three years the procurement systems had saved US$350 million and paved the way for improved transparency in the infrastructure and other sectors.
"We are not just responsible for building roads, we need to build institutions," His Excellency explained.
In his current position as Minister of Public Works, H.E. Yama Yari alongside Dr. Mustafa Mastoor, Minister of Economy have played key roles in promoting CoST – the Infrastructure Transparency Initiative (CoST). Hosted by EAP, CoST operates in Afghanistan and 12 other countries, helping to put data on infrastructure projects into the public domain, improving its accessibility and ensuring decision-makers are held accountable.
In addition to its implementation in Afghanistan, Honduras is another fragile and conflict affected states in which CoST operates in. Despite the challenging environment, the CoST Honduras story has marked many milestones and had another key advocate at its beginning – Alfredo Cantero, Minister without Portfolio, Honduras and CoST Board member. Our 20th Anniversary heard Mr Cantero describe what motivated him to push forward the application of Honduras to the initiative, including how CoST membership was seen as part of a broader reform effort and as part of an effort to rebuild trust with industry and civil society.
Pushing forward political will as demonstrated by Mr Cantero has been hugely advantageous to the sector and CoST. CoST Honduras launched its disclosure platform, SISOCS, which, since 2015, has disclosed data on 1,038 public and Public Private Partnership infrastructure projects, putting key information on how tax payers' money is being spent into the public domain.
Promoting better working conditions and opportunities in construction and engineering sectors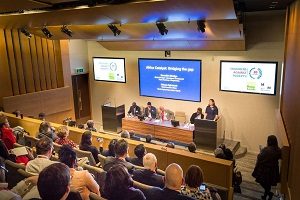 Over recent years other areas of our work have focussed on addressing key issues facing migrant construction workers in the Gulf Corporation Council (GCC) and young engineers in sub-Saharan Africa. Whilst both work streams are vastly different, they share a double dividend commonality; improving lives and opportunities at the same time as strengthening the sectors they relate to – those of construction and engineering.
For the past several years, we have advocated for the adoption of measures to address the late or no payment of wages to migrant construction workers in the GCC which is one of the most critical issues facing migrant workers globally, having a detrimental impact on their welfare and that of their families in their country of origin.
Whilst the immediate impact of advocacy efforts can sometimes be hard to see, our 20th Anniversary was able to demonstrate where our recommendations and their benefits have been put in place. Mahmoud Qutub, Executive Director for the Workers' Welfare Department of the Supreme Committee for Delivery & Legacy in Qatar presented the ways the Supreme Committee is protecting workers constructing the mega infrastructure needs for the FIFA World Cup 2022 in Qatar.
Dr Jill Wells, Senior Policy and Research Adviser at EAP had met Mr Qutub at a workshop in 2016 where she made recommendations to improving conditions for workers in Qatar, including measures to make the construction supply chain as short as possible, speed up cash flow to workers and ensure proper vetting of sub-contractors. In his speech Mr Qutub highlighted how the Supreme Committee has taken these onboard, including by specifying shorter payment terms in contracts and putting in place a sub-contractor pre-approval process which ensures that only ethical contractors are taken on.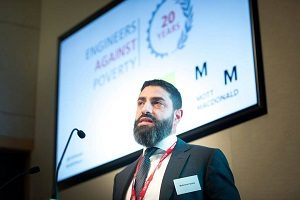 "We never forget our primary obligation – protecting our workers. Yet we also have an obligation to educate both local and international companies hoping to be part of the genuine legacy FIFA 2020 leaves behind," said Mr Qutub.
Contrasting to this, our work enhancing the engineering sector and the opportunities of engineering graduates takes place in a different part of the world, carried out under the Royal Academy of Engineering (RAEng)'s Africa Catalyst programme. This has taken us to Ethiopia, Rwanda, Mauritius, Nigeria, Zambia and Zimbabwe, with different approaches taken in each of these contexts. Our partner from RAEng, Meredith Ettridge, Senior Manager for International Development homed in on one approach – that of our internship programme in Rwanda. Whilst immediate associations with Rwanda can often be negative and draw on its turbulent past, Ms Ettridge emphasised the massive potential of the country and its young engineers. She outlined how our work in Rwanda gave young graduates a passport to employment opportunities, helping them to develop their professional development skills. In an end-of-year survey, all interns felt their practical skills had increased as a result of our programme and gave either a good or excellent mark relating to their overall impression of it.
Interview with the Department for International Development: Bridging the gap between policy makers and citizens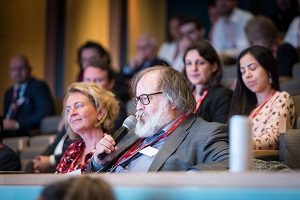 In keeping with our ambitions for a diverse conference format, the latter part of our event included an interview with Rachel Turner, Director for Economic Development at the UK's Department for International Development (DFID). Ms Turner answered questions on the effective use of DFID's infrastructure investment, its alignment with other departmental priorities, how it mobilises expertise in infrastructure delivery and its future funding priorities. Interviewer Owen Barder, Vice President at the Center for Global Development then opened the interview up to the audience, inviting attendees to put forward questions and opinions particularly relating to what they thought should be infrastructure funding priorities going forward. Giving the opportunity for audience participation in this way reflects our general approach to working, bringing decision makers closer to those affected by their decisions, encouraging greater accountability and facilitating multi-stakeholder discussion.
Wrapping up: What are the key infrastructure innovations we can expect in the future?
To wrap up the day our final session brought together those working across our diverse areas of work, including Dr Wells, Chrik Poortman, CoST Chair, Hayaatun Sillem, Executive Director of RAEng and Clare Rhodes-James, Development Director – Power Generation at Mott MacDonald. Together, panellists reflected on innovations employed in their respective areas over recent years and linked back to the stories told throughout the afternoon which demonstrate the real change on the ground. The session offered the opportunity to also focus on challenges that have been faced in implementation and how we can use these lessons to do better in the future.
Key links