In 2017 Engineers Against Poverty partnered with engineering institutions in Sub-Saharan Africa to help build their capacity and strengthen the sector. This work was made possible with funding from the Royal Academy of Engineering, allocated to pilot projects as part of its 'Africa Catalyst' programme. The projects have ranged from advancing organisational development, developing standards and helping to tackle corruption. As the Africa Catalyst programme moves into its second phase, we reflect on the experience of the pilot projects we supported.
Rwanda: Bridging the gap by matching graduates with industry roles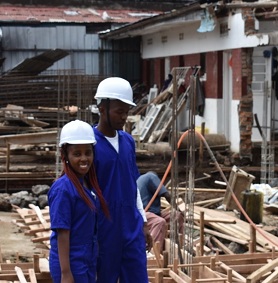 In Rwanda we worked with the Institute for Engineers Rwanda to tackle obstacles facing engineering graduates seeking to enter the workplace. Despite their qualifications, recent graduates often struggle to gain employment through a lack of practical experience. This project addressed this problem directly by establishing an internship programme that matched recent graduates with employers.
At the end of the project the Institute carried out surveys with the interns which demonstrated the success of the scheme. Of the interns surveyed, 68% felt their theoretical knowledge had increased, 100% felt their practical skills had increased and 30% remarked that their project management skills had improved. Finally, all of those surveyed gave either a good or excellent mark relating to their overall impression of the scheme.
Mauritius: Advancing a framework for delivering quality engineering education
In 2017, the Institute of Engineers Mauritius set out to establish an engineering education accreditation framework to improve the quality and applicability of engineering education and to enhance Mauritius as a regional centre for engineering education. To develop the framework, we helped to train senior engineers acting as evaluators of the framework. The engineers were trained on the Washington Accord – a multi-lateral agreement between bodies responsible for accreditation or recognition of engineering qualifications, More specifically, they were trained on the Washington Accord's accreditation criteria, standards and procedures and methods of application and assessment requirements for engineering degrees. The accreditation framework lays the foundations for the Institute of Engineers to eventually seek signatory status for the Washington Accord.
Ethiopia: Promoting institutional development
In Ethiopia, we worked with the Ethiopian Association for Civil Engineers to support its institutional development. Primarily, this included recruiting Professor David Cleland to review and participate in workshops on two key resources produced by the Association. The first was the report, 'The Quality of Civil Engineering Education and Employment Opportunities for Civil Engineers', which was based on surveys undertaken with engineering students, academics, staff and employers. Our review focused on how to further substantiate the report, such as by providing a benchmark against international standards including the Washington Accord graduate attributes and the EUR-ACE Framework and Standards. The second publication was the Association's five-year strategic plan and we advised on how to adapt and implement this to budget.
In addition to these activities, we delivered a presentation to representatives of the main engineering associations in Ethiopia which focused on the UK's Engineering Council and its relationship to professional engineering institutions. Following the presentation, it was decided to re-establish Ethiopia's Consortium of Professional Engineering Associations.
Zambia and Zimbabwe: Driving anti-corruption forward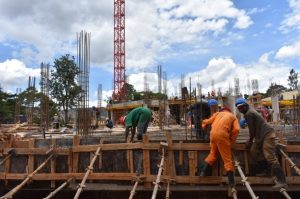 We supported the World Federation of Engineering Organisation to carry out, 'A Pilot Feasibility Study for An Infrastructure Anti-Corruption Index: The Case of Zambia and Zimbabwe'. The Study sought to address some of the weaknesses evident in global governance indicators which focus on perceptions of corruption rather than the exact magnitude of corruption. Accordingly, the surveys comprised qualitative and quantitative methods and obtained information from a wide range of stakeholders concerned.
In Zimbabwe, the Study demonstrated high levels of corruption in the public construction sector and that despite the means existing to reduce corruption, there was a general lack of political will to implement these means. In Zambia, the Study attributed high levels of corruption to a lack of autonomy of anti-corruption institutions and political interference. Although high levels of corruption were evident across both countries, the Study found that respondents had a high level of awareness of corruption, thought it wrong or damaging and wanted effective policies and standards to be in place to prevent it.
The Study will be used to establish an anti-corruption index in both countries, which it also recommends being expanded into a global infrastructure scorecard to cover Sub-Saharan Africa. It also provides the basis of recommendations on Anti-Corruption action to government, corporates, civil society as well as professional engineering.
Next steps
We are delighted to enter the next phase of Africa Catalyst in 2018 where we will collaborate on two more projects. For the first project, we will once again work with the Institute of Engineers in Rwanda to expand on the success of its internship programme. For the second project, we will work with the Nigerian Institution for Mechanical Engineers and provide monitoring and evaluation support to their engineering education programme which includes an engineering boot camp for 500 students, an internship programme and an innovation challenge.
Useful links