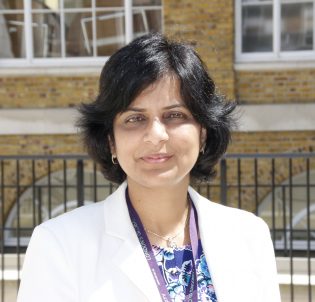 Dr. Priti Parikh is a chartered civil engineer and Associate Professor in Engineering and International Development at University College London. She has over 15 years of engineering industry experience in South Asia, Sub-Saharan Africa and the UK with consultancies to include hands-on experience of designing infrastructure for slums in partnership with local communities. Dr Parikh received her PhD in Engineering from the University of Cambridge in 2008.
Dr. Parikh has successfully championed the need for high quality research and engineering education to meet global challenges and the Sustainable Development Goals (SDGs) in resource challenged settings. She created a novel MSc programme in Engineering for International Development (EFID) and the EFID student hub, which harnesses engagement and interest from students addressing developmental challenges through joint activities with the UCL chapter of Engineers Without Borders, Global Water Brigades, Engineers in Action, UNICEF summer schools and engagement with the Royal Academy of Engineering. She won the UCL Provost Education Award for her contribution to Engineering Education.
Dr. Parikh created and now leads the interdisciplinary EFID Research Centre which focusses on research in relation to water, sanitation and energy infrastructure in low-middle income countries. She was awarded the prestigious BBOXX/Royal Academy of Engineering Senior Research fellowship which focuses on energy access in sub-Sahara Africa through smart solar solutions. Dr. Parikh and her team of doctoral and post-doctoral researchers use mixed-method approaches for research focusing on the provision of sustainable and resilient infrastructure, environmental improvements and business models for resource constrained settings (slums and rural communities).
Dr. Parikh is a key influencer in her field, and has been recognised as an Engineers Without Borders Changemaker, as well as serving as chair of the editorial panel for the Institution of Civil Engineers Engineering Sustainability Journal. She is a member of the board of trustees for the Happold Foundation and is a fellow of the Institution of Civil Engineers.