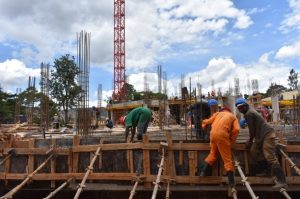 EAP is proud to be supporting four pilot projects, awarded funding under the Royal Academy of Engineering (RAEng) led Global Challenges Research Fund (GCRF) Africa Catalyst programme. Africa Catalyst seeks to build the capacity of professional engineering institutes in sub-Saharan Africa.
Following a review of proposals from organisations supporting the engineering profession in sub-Saharan Africa, grants of £40,000 have been awarded to 15 successful applicants to pilot their projects over the next six months. Given its focus on capacity building, the GCRF Africa Catalyst programme strongly encouraged partnerships across the engineering research, policy and business communities in both the UK and sub-Saharan Africa. EAP will therefore be partnering with four of the successful sub-Saharan applicants to test their models on the ground and strengthen capacity building in the region going forward.
EAP is supporting the following successful applicants to lead pilot projects across the region:
Institution of Engineers, Mauritius – Developing accreditation processes for engineering at higher education institutions to ensure that industry needs meet academic outputs.
Institution of Engineers, Rwanda – Providing professional development to new graduates to support the transition from theory into practice.
Ethiopian Society for Engineers – Undertaking a gap analysis of the university syllabus to ensure that it complies with international standards and identifying the barriers to employment for engineering graduates.
World Federation of Engineering Organizations and the Federation of African Engineering Organisations – Identifying the extent of corruption in public infrastructure in Zimbabwe and Zambia and establishing an anti-corruption index for the sector.
The projects will contribute towards the GCRF Africa Catalyst programme's wider objectives to improve engineering education to meet recognised international standards and strengthen the evidence base for the role robust engineering institutions play in driving development.
The GCRF Africa Catalyst programme builds on the Enriching Engineering Education (EEE) programme, in which EAP supported the RAEng to refocus engineering education on its practical application. By supporting the development of sufficient, and appropriately skilled, local engineering capacity, the GCRF Africa Catalyst programme seeks to further drive national and regional development in sub-Saharan Africa. Lessons learnt and successful models from the pilot projects will help shape the future of the programme and potential investment opportunities. All four pilot projects have now kicked off so stay tuned for updates on the results!