In this interview, EAP speaks to Hamish Goldie-Scot, Technical Advisor for CoST – the Infrastructure Transparency Initiative. CoST – which is hosted by EAP – is one of the leading global initiatives improving transparency and accountability in public infrastructure in order to reduce mismanagement, inefficiency and corruption. Speaking from COP26 in Glasgow, Hamish dives into his top priorities for infrastructure and the environment, and the role that civil engineers can play in tackling the climate crisis.  
COP26 has been heralded as the last, major opportunity for world leaders to come together to tackle climate issues. What should be at the top of their agenda?
Top of the agenda as I see it is the need to protect the ongoing process so that it doesn't unravel in the future. This means ensuring that climate-related discussions draw back from any polarising political or ideological rhetoric. Honest, clear, and humble leadership is required in order to reach a shared understanding that every citizen, albeit to varying degrees, is part of the problem, but can also be part of the solution, regardless of political outlook or socio-economic background.
Despite the media attention it has attracted, there is still a lack of in-depth analysis surrounding the climate debate. Another priority is therefore to engage in the challenging task of charting a way forward that recognises that there are no easy answers, and that governments are very constrained in what they can achieve.
The fact that every proposed "corrective" action carries risks and could prove counterproductive in practice should not result in paralysis
Rather there needs to be an honest acknowledgment of such risks, combined with a high degree of transparency and constructive engagement that will allow us to see in time what works well, and what does not. The ethical principle "ought implies can" needs to be applied here – as part of a recognition of the need for practical solutions that can realistically be tested and then implemented at scale.
It's more important than ever that the infrastructure sector provides innovative solutions to reduce its high carbon footprint. What do you see as some of the most exciting technical developments currently?
Engineers have recognised for over 30 years that approximately 70% of global greenhouse gas emissions come from infrastructure construction and operations.
Technology is already making a dent in this through the increased use of low carbon materials and smart solutions to minimise carbon footprints associated with the construction and use of infrastructure. But much more than that will be needed if even the least ambitious targets are to be met.
This will require a step change in reducing waste in terms of electricity generation as well in reducing travel (by people), transport (of goods) and inefficiencies associated with the heating and cooling of homes and offices.
On the issue of power generation, wind, solar and wave generation each has an important and growing part to play, most likely in that order, in the complex mix of energy sources that will in future be required. Ongoing technological development means that, in time, the generation of hydrogen from wind power will start to replace fossil fuels in vehicles, while helping to address the more general storage problem associated with renewables.
But net zero is as much about increasing CO2 absorption as about reducing emissions. Though Carbon Sequestration has come a long way since the 1990s, it remains expensive both financially and in terms of other resources. But the technology continues to improve and it will form part of a future array of carbon capture solutions. Featuring prominently among these will be improvements in agricultural practices, so as to start restoring naturally occurring carbon capture in the soil, as well as through forestry and better use of forest products.
CoST teams are developing technological innovations to promote sustainable infrastructure, such as InfraS developed by CoST Honduras. What is the particular value of a tool like InfraS?
InfraS is a simple but effective tool that shines a light on environmental commitments that have been made in relation to specific projects, and facilitates the ready identification by stakeholders of discrepancies (by referring to what is displayed on maps through an online tool) between those commitments made and what is observed in practice.

This process of increasing transparency and participation in relation to infrastructure provision helps put pressure on clients and contractors alike to raise their game, and improve the environmental sustainability of infrastructure projects
More broadly, whether it relates to carbon trading, logging, or even energy policy, the combination of transparency and informed participation in pursuit of a shared objective serves to increase the prospects for fine words being translated into effective action.
Climate change has a disproportionately negative impact on the lives of the vulnerable. How does CoST amplify the voice of those most affected? What change has this led to?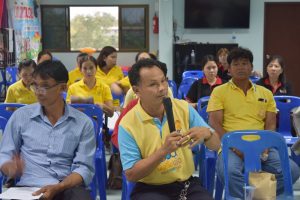 In relation to the planning and provision of infrastructure, CoST helps gives voice to the views of all stakeholders, including the intended users of the infrastructure, and of others in the locality who may be affected by it, whether positively or negatively. Though CoST does not cut across or undermine existing procedures for consultation, participation and complaints, it does shine a light on the degree to which such procedures have proved effective in practice. In addition, it facilitates constructive communication between stakeholders, and provides objective evidence about what is working well, and what is not.
It is important to note here that the impact of CoST extends beyond any one specific project. In addition to identifying specific shortcomings on individual projects – such as, for instance, when a design process fails to take account of increased risks of flooding to some local residents – a CoST Assurance Report also provides independent recommendations about how policies or procedures can be improved across the whole sector, to avoid a repetition of the problem.
As a civil engineer yourself, what role do you see engineers playing in efforts to combat climate change?
Civil engineers are trained to solve problems, and in theory are professionally committed to having an over-riding obligation to the public good that transcends any other contractual obligations to clients. In practice, this is not always achieved, as many engineers find themselves compromised or relegated into purely technical functions, and pressured to fall short of their professional standards.
Supported by their Professional Institutions and Associations, as well by FIDIC, the International Federation of Consulting Engineers, engineers are increasingly taking the opportunity afforded by climate change to take a stand and resume their historical role of exercising leadership on matters of importance to society and to future generations. It is particularly encouraging in this regard to witness the determination of young men and women entering the profession to make a difference.