As part of Open Government Week EAP releases its final insights paper focussed on The need for increased accountability in Mega Sport Event (MSE) Infrastructure. The adoption of the recommendations outlined within could significantly improve MSE infrastructure governance, ensuring constructions are delivered to meet people's needs and enhance trust.
We focus on the need to address shortcomings such as opacity in the legal structure of sports organisations, secrecy of information across governments and delivery authorities, and a lack of participatory space for citizens and residents.
Our recommendations are centred on increasing the role of the public in demanding accountability. The substantial sums of public money used to deliver MSEs and the impact on everyday lives impose a duty on host governments to inform and involve citizens in decisions. Methods should be put in place to help improve citizen capacity to express their views and the ways in which they can do so.
Current challenges
The following threats to accountability include that:
Many sports organisers benefit from having a non-profit status which grants them less scrutiny, relative to the profits they actually make. Their membership structure also means their obligations, such as votes on elections, are more exclusively to member associations.
Host governments

often forego the

consent of citizens

when bidding for the games. In the Olympics for example bidding cities normally conduct a survey of just

2000 people

.

Access to information is often denied. In the Sydney Olympics 2000 the Cabinet imposed a general ban on Freedom of Information on Olympic documents.
Limited participation in planning increases distrust from citizens. In Vancouver, Glasgow and London, despite residents being displaced for infrastructure regeneration, insufficient processes neglected the voice of citizens during planning.
Consequences
These issues result in 'infrastructure with a shelf life' across the sports facility constructions and other infrastructure. In the Sochi Games the transport infrastructure, road and rail links, tunnels and bridges connecting the coast to the mountains totalled $10 billion and has not been used since the games.
Promoting space for participation is key to delivering better value from projects and improving trust. Past examples of good practice include the Birmingham Commonwealth Games 2022 which saw public consultation drop-in events and on-line 'Be Heard' platforms which helped to redesign a highway project and ensure sufficient safety measures were put in place for cyclists.
Recommendations
We outline four overarching recommendations to cover the aforementioned accountability issues.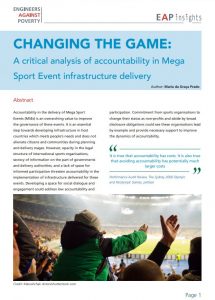 1. Tackling opacity through access to information. Legal determinations in bids should ensure project and contract documents are subject to disclosure and limitations restricted on rights to information laws. Sports organisations should lead by example by changing their non-profit status to abide by broader disclosure obligations.
2. Tackling limited civic space through a multi-stakeholder approach. Enriched discussion at infrastructure planning forums involving sports organisers, infrastructure agencies, government, business and communities can deliver better results and increase trust, especially when a third party is used to guide discussion.
3. Strengthening the social voice through independent social audits. Citizens who are expertly trained to monitor, track, analyse, and evaluate infrastructure projects are an effective way to drive forward improvements. They can improve accountability loops, reporting to other stakeholders and helping to strengthen oversight across bidding, planning and delivery stages.
4. Amplifying the voice of the citizen through virtual spaces. Last year demonstrated the value of the digital realm in providing a space for participation. The creation of a virtual protected space for citizens and civic groups to express their concerns could help to highlight key issues among decision-makers. A relevant platform providing this should be embedded in MSE infrastructure from bidding stages and rolled out from the outset.
Our recommendations could significantly improve participatory innovative processes in MSE infrastructure planning and delivery and create a positive legacy able to produce more lasting benefits across host countries. Furthermore, such approaches need not stop at sports events but can be replicated across other areas of infrastructure to deliver a more robust sector worldwide.
Further reading from the Changing the Game series: