Thousands of spectators take to Tokyo's built-for-purpose stadium, millions enjoy spill-off celebrations in the capital's bustling streets and billions worldwide watch online as the Tokyo Olympics open. That of course was how the 24 July 2020 looked a year ago.
Like many other sectors, the world of sport – having drastically altered plans around Covid-19 – is facing pressure to come back stronger with host governments and private sponsors looking to make up for economic loss. But under pressure, quick decisions and a lack of scrutiny remains a concern, particularly given the sector's poor track record in labour rights, corruption and public participation.
Today EAP shines a light on just one of these issues in the delivery of Mega Sports Events (MSEs) – that of labour exploitation – an area tarnished by stark statistics particularly in how little and late workers are paid and the poor conditions they are subject to. By addressing these issues sports and construction industries could save and protect uncountable lives.
Unsafe working conditions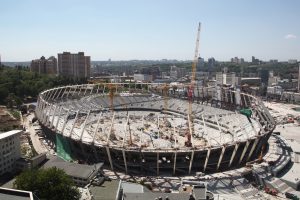 In helping to deliver MSEs on time, construction workers are often pressured to work unbearably long hours, on unsafe sites and in inhumane conditions. Whilst conditions of course vary between contexts, those working on Qatar's Khalifa Stadium for the FIFA 2022 have been reported to earn just US $ 1.50 an hour for 13 hour shifts, six days a week, under intense heat.
Similar reports have emerged from the Tokyo Olympics. The suicide note of a 23-year old worker highlights this most bleakly, "My body and soul have reached their limits" wrote the worker who clocked 190 hours of overtime on the New National Stadium a month prior to his death.
Complicated access to safeguards and compensation aggravates the issue and leads to silence from exhausted workers. For example, claims at judicial courts and the Court of Arbitration for Sport in Lausanne require lengthy, expensive and excessively complicated claims.
Little and late payment
Job creation is routinely hailed as a key benefit to the host nations of sports events, however in the infrastructure sector, employment is often unsustainable and precarious. Not only are workers underpaid, but employers neglect to build workers' key skills to help their longer-term opportunities. Although 452,000 jobs were created in South Africa, most of these jobs were informal and paid below minimum wage and 110,000 construction workers could not find another job after the event.
Furthermore, the little workers do earn is often paid late. Building and Wood Workers' International reported strikes over delayed wages in at least six World Cup stadia. And this is particularly concerning for migrant construction workers who then cannot send remittances back home to support their families and are likely to fall into situations of indefinite debt bondage and forced labour.
What can be done?
Whilst there is work to be done to protect workers, positive signs of change are emerging, such as steps taken by the Olympic Committee and FIFA who included new labour standards in their bids for the 2024 and 2026 events. As sports organisers and host countries look to make a comeback, there is the opportunity to build on this. In research published by EAP today a series of pragmatic solutions are offered to help them do so.
Some of these recommendations include:
To promote health and safety a monitoring system of construction sites could be put in place, involving bodies other than labour agencies (who usually bear sole responsibility for site inspections) to enhance scrutiny over the protection of workers. The London Olympics, which had such a system, did not record any fatalities unlike its predecessors and successors.
Workers' longer-term prospects could be enhanced by establishing a capacity building body focussed on building their soft and hard skill sets, and the design of such a body could be incorporated into construction bids to help ensure its enforcement.
To mitigate late payment, a construction workers' payment fund is key. This has been established in Qatar through its 'Wage Protection System' which releases payment to workers at the bottom of the construction supply chain after a late payment claim is filled by workers. This could also include an escrow system where payment is released to a personal account on an agreed date, thus ensuring payment is already in the bank and ready to pay workers.
A proper grievance mechanism could be developed to help deal with labour (and other) disputes. London established a 'Complaint and Grievance Mechanism' and Tokyo has since followed suit. This could allow individual and collective rights abuses to be brought to an independent party who mediates and settles the issues. To ensure the range of actors involved share responsibility, it should come with specified obligations for government, construction firms and sports organisers.
Under pressure to deliver, the sports and construction industries have too frequently prioritised on-time events of magnitude, rather than putting the workers essential to delivery first. Before rushing back in, now is the perfect opportunity to reflect on previous lessons and through measures proposed by EAP and others, ensure equality, opportunity and the protection of workers is upheld, and stark statistics put in the past.
Read the opening remarks to EAP Insights' Changing the Game series
Read the first paper Changing the Game: A critical analysis of labour exploitation in Mega Sport Event infrastructure projects