On Monday 11 February, EAP hosted a cross section of infrastructure leaders at a roundtable to discuss the Independent Commission on Aid Impact (ICAI)'s recent review into Department for International Development (DFID) transport and urban infrastructure spending. The discussions preceded the International Development (IDC) Sub-Committee session on the work of ICAI held two days later where this review was discussed. In this blog, Tippi Creed-Waring explores the key themes which emerged during the roundtable and the next steps for DFID's work in transport and urban infrastructure.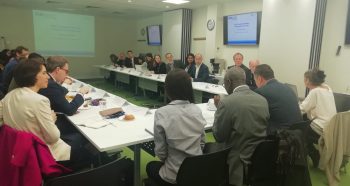 ICAI's review measured the impact of DFID investments in transport and urban infrastructure between 2015 and 2016, consisting of 57 programmes with combined budgets of £3.9 billion. DFID was awarded a green/amber score overall, although the review concluded that its results were mixed. For instance, while DFID performed well in terms of strategic approach and supporting multilateral finance, there were areas of concern with regards to programme effectiveness.
ICAI's focus on the area of transport and urban infrastructure reflects the overwhelming consensus that they are vital tools for promoting economic growth and alleviating poverty. Investment is needed in these areas to ensure cities have the infrastructure to support ever growing populations, and disparate communities have the transport links they need for economic growth. Similarly, EAP's mission is to promote infrastructure policy and practice with sustainable social, economic and environmental impacts that contribute towards the elimination of poverty. As such, we were delighted to promote dialogue between experts from DFID, ICAI, the private sector and civil society organisations who are also committed to achieving this aim.
Representatives came together for a frank discussion about the review, its methodology and findings, giving both DFID and ICAI the opportunity to respond to questions and comments from the room. A number of themes emerged throughout the session.
A clear link to economic growth
An area singled out by ICAI as one of DFID's strongest was the clear link between programme choice and the promotion of economic growth. DFID's 2017 Economic Development Strategy clearly identifies infrastructure as a potentially transformative investment: ICAI found that its programmes are clearly aligned to this and well designed to meet the needs of individual country contexts. The CrossRoads programme in Uganda was referenced as an example of DFID's work in this respect, which took an innovative approach to address market and governance failures in both the construction and finance sectors.
Inclusion
While DFID's commitment to promoting economic growth was clear, there were concerns that its programmes sometimes lack a systemic approach to including the most vulnerable groups in society. ICAI found that growth-focussed bilateral programmes in particular ''do not pay enough attention to enhancing benefits for the poorest, women or people with disabilities''. This issue was also raised in the subsequent IDC session by International Development Sub-Committee Chair Paul Scully, who questioned the lack of inclusion in growth focussed programmes. DFID responded during the session by highlighting its commitment to inclusion from the top down to country level. Representatives pointed to the fact that 75% of infrastructure advisors have been given inclusion training in the last year, with Infrastructure and Cities for Economic Development (ICED) also working to ensure inclusion considerations are accounted for in country-programmes.
Amber-Red effectiveness ranking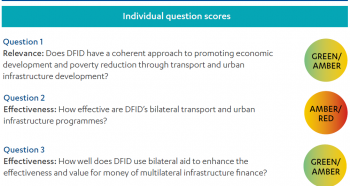 One topic of lively debate during the discussion was ICAI's decision to award DFID an overall green-amber score, after awarding it an amber-red on the effectiveness of its bilateral transport and urban infrastructure programmes. There was concern that this ranking had subsequently been given insufficient consideration by ICAI, and also that DFID's response to the review had not gone far enough in addressing it. Representatives from ICAI defended their decision however, pointing towards DFID's stronger areas, such as its strategic approach, high-quality research work, influencing efforts with multilateral banks and leveraging of private finance, on which it was also ranked.
Safeguarding
Safeguarding was a key issue which was picked up on in ICAI's review and this was reiterated during the roundtable. ICAI stated that ''DFID relies on the safeguarding policies of its multilateral partners but is not active enough in ensuring that these are effectively implemented''. Key issues in the report referred to the acquisition of land from poor communities, safety on construction sites and measures taken against sexual assault. However, there was consensus in the room that safeguarding is an issue for the international community as a whole, and that the challenges faced by DFID are not unique to it as an actor. When questioned on safeguarding during the Sub-Committee session, DFID accepted that this is a challenging area, but outlined its efforts at an international level to account for vulnerable groups during the consultation, building and delivery of infrastructure.
Next steps
In its official response to the review, DFID accepted three of ICAI's recommendations and partially accepted the fourth. One area of agreement was the need to work towards more realistic programme timetables, and how to manage investments lasting beyond a single programme cycle. On this, DFID committed to reviewing programmes which had operated successfully for longer than the average project length, such as the Rural Access Programme in Nepal and CrossRoads in Uganda. DFID will identify lessons which can be learned and transferred to other programmes running for similar lengths of time.
On its partial acceptance of the fourth and final suggestion, which recommended it should clarify how it works with China and other new donors of infrastructure finance, DFID outlined its direct engagement with these actors through the G20, the Global Infrastructure Hub and the Private Infrastructure Development Group (PIDG). In the future, new work with China and others will concentrate on developing technical assistance platforms with a focus on project selection, design and implementation issues.
DFID also committed to a greater focus on infrastructure quality, transparency and coordination in its work across all levels. This commitment is welcomed by EAP and will be warmly received by all stakeholders working to promote infrastructure policy as a means to alleviate poverty.
With regards to any future review into this area, EAP would welcome a stronger focus on DFID's work in addressing infrastructure governance issues. While the review looked at issues related to land acquisition, trust fund management and in relation to China's investments, we would welcome more research into governance issues as a whole and the work DFID is doing to overcome them.
Image attribution
DFID's transport and urban infrastructure investments